Combined to use with Skinのpure youthfix Dark Spot Eraser to get youthful skin today!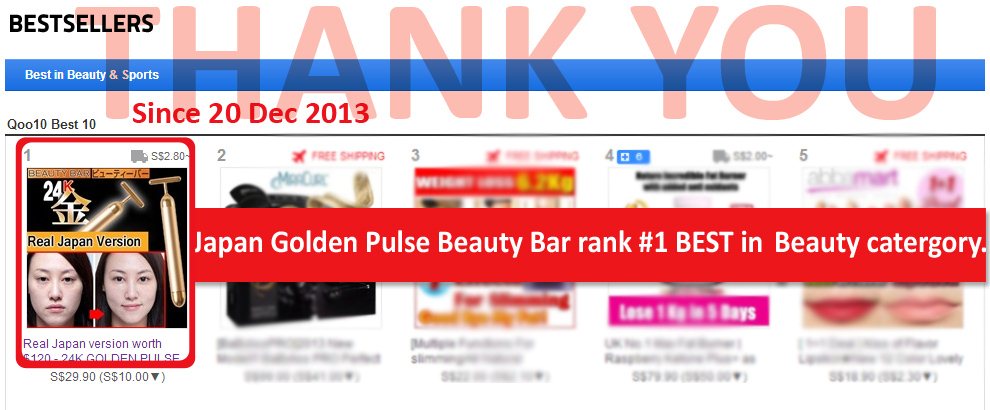 Limited stock available~
Attention:
We are the only authorized reseller
for authentic Japan 24K Golden Pulse Beauty Bar in Singapore.
---
Direction:
It's recommended to use the beauty bar without makeup. When massage, sligtly gentle press T-head on your skin and move from in to out, bottom to up direction(i.e. nose to ear direction, chin to ear direction, etc).Use 2~3minutes on each application, and you can use morning & night for good result.
To our opinion, in the morning when your face is wash clean & dry, use beauty bar 2~3minutes. And then at night, before sleep, after wash face clean and apply moisturizer(or other skin care products) until fully absorb, then use beauty bar for 2~3minutes, it will help your skin to absorb moisturizer(or other skin care products) upto 70% better than normal day. This way, it will make your skin better in maintain supple and do not lost much water while you're sleeping.
Tips:
Beauty bar can increase your skin care product upto 70% more effectively. It depends on what result you are trying to acheive. For example, if you want to get v-small face, apply facial lifting serum(eg.shills facial lifting serum) or wrinkles erase serum then use beauty bar for 2~3minutes.
Based on our customers reviews, Result is varies depends on individual condition. In general, more feedbacks for obvious/immediate result on sagging/finelines/double chin/puffiness. For shaping/tightening/glowing/firming/deep wrinkles/skin rejuvenation it may takes more usage.
Made in Japan
Disclaimer:
Original 24K gold-bar comes with ON/OFF label. Not laser engraved ON/OFF.
Non-made in Japan Replica version will emphasis the laser engraved ON/OFF as that is the only thing they can do to make product looks good.

We carry the Original Japan local version of 24K GOLDEN PULSE Beauty Bar
This is direct from manufacturer before products were sent to Japan stores to mark up price.
Only comes with Japanese Instruction
as product are local Japan version and export to Taiwan (see Nu Ren Wo Zui Da TV-show)
Do not purchase if you are not comfortable with Japanese instruction
Did You buy the right/real Made in Japan version Beauty-Bar?
To ensure if you get the real Japan version of 24K Golden pulse beauty bar
Check out Japan popular website Rakuten website here:
www.rakuten.co.jp and key-in beauty bar japanese word: ビューティーバー
in the search field.
Pay attention to the packaging and beauty bar
beware of imitation
http://item.rakuten.co.jp/tokiowalker/10004154-1b/
http://item.rakuten.co.jp/celebrite-shop/2366-9516/
http://item.rakuten.co.jp/auc-spot/10000626/
and many more...
Check out Japan version of packaging and the beauty bar
Check this out
Following picture is obtained from HK Famous Blogger which has verified the Original Japan version in her blog(year2012):
http://unwire.hk/2012/11/09/golden-pulse%EF%BB%BF-beauty-bar/news/
Let the reviews tell you the truth about the product.
The product also has been introduced in Taiwan Tv-Show "Kang-Xi Lai Le"
Recently, Japan Youngest looking Mom revealed her skincare secret!

She uses Beauty Bar to massage daily & skin looks like 20!

Can you guess how old is she?

She's 43!!!
Attention:
Due to some buyers use incorrect method/do not understand how to open/insert battery,
we now demostrate in video to show you how to operate beauty gold bar correctly.
Please kindly note that there are a few common-mistakes in the battery installation that will make the unit not functioning:
1. the device use AA battery not AAA battery. Best to test with few batterries as some china made battery does not work with the device.
2. to insert battery, we need to open the knob near the 'On/Off' switch, not the T-bar end.
3. To open the knob, twist the knob to 'On' position (i.e. anti clockwise) and continue to twist further. i.e. the knob is not stuck but just reach the limit of 'On' position. Further twist will unscrew the knob.
4. The positive end of the battery should be pointing towards the 'On/Off' Knob (not the T-bar).